We missed Captain Marvel in the theaters so I was pretty excited to watch it when it arrived on my doorstep the other day. We made it into a movie night this past weekend as part of our Father's Day celebrating. And I have to say I'm glad we waited to enjoy it all together as a family. It's a must see movie if you've not seen it yet! I won't give away any of the details, but I will say she's pretty good at what she does and the movie helps tie her into the final Avengers movie too.
About the movie:
Set in the 1990s, "Captain Marvel" is an all-new adventure from a previously unseen period in the history of the Marvel Cinematic Universe that introduces the MCU's first stand-alone, female-franchise title character—Carol Danvers aka Captain Marvel. When we first meet Danvers, she already possesses her superhero powers, having left her earthly life behind and become a member of an intergalactic elite Kree military team called Starforce, led by their enigmatic commander, Yon-Rogg. But after Danvers has trained and worked with the Starforce team, and become a valued member­, she finds herself back on Earth with new questions about her past. While on Earth she quickly lands on the radar of Nick Fury, and they must work together against a formidable enemy in the form of the Skrulls—the notorious Marvel bad guys made even more dangerous by their shape-shifting abilities—and their leader, Talos, who is spearheading a Skrull invasion of Earth.
Based on the beloved Marvel comic-book series, first published in 1967, "Captain Marvel" stars Academy Award® winner Brie Larson ("Room," "Kong: Skull Island") as Carol Danvers/Captain Marvel, Samuel L. Jackson (Marvel Studios' "Avengers: Age of Ultron," "The Hateful Eight") as Nick Fury, Ben Mendelsohn ("Rogue One: A Star Wars Story," "Mississippi Grind") as Talos, with Annette Bening ("American Beauty," "20th Century Women") as Supreme Intelligence, with Clark Gregg ("Marvel's The Avengers," "Agents of S.H.I.E.L.D.") as Agent Coulson and Jude Law ("Sherlock Holmes," "Fantastic Beasts: The Crimes of Grindelwald") as Yon-Rogg.
"Captain Marvel" comes packaged in various formats to best fit today's varying consumer desires. Viewers can bring home the film two weeks early on Digital 4K Ultra HD, HD and SD and gain access to two exclusive features, including a behind-the-scenes visit with the Visual Effects team that makes the filmmakers' visions of the MCU come to life and an inside look at the epic team effort that goes into an action-packed sequence within a Marvel Studios film. A physical copy of "Captain Marvel" is available as either a 4K Cinematic Universe Edition (4K UHD+Blu-ray+Digital Copy) or a Multi-Screen Edition (Blu-ray+Digital Copy), granting fans the flexibility to watch on devices of their choice.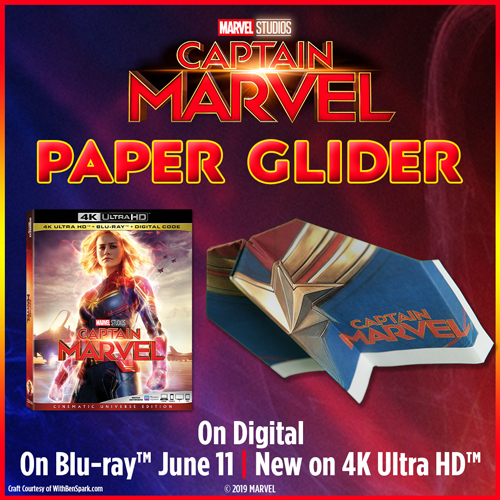 And for a little added fun! Get ready to go Higher, Further, Faster with your very own DIY #CaptainMarvel Paper Glider! Download the instructions & template now at
http://bit.ly/CaptainMarvelGlider
.
SOCIAL MEDIA:
Website:
Marvel.com/captainmarvel
Facebook:
Facebook.com/captainmarvelofficial
Twitter:
Twitter.com/captainmarvel
Instagram:
Instagram.com/captainmarvelofficial
Youtube:
Youtube.com/marvel
This is a sponsored post on behalf of the above mentioned brand. All thoughts and opinions stated are my own and are in no way influenced by my partnership with mentioned brand.