Okay, so if you read the title of this post and answered yes - GOOD FOR YOU! But if you read the title and said no - BOO ON YOU! I got the opportunity to see it as soon as it was released on digital HD and boy was I glad. I was upset we didn't get a chance to make it to the theater when it first came out, but it was just as good watching it at home. Sometimes I actually prefer watching movies at home because I don't have the distraction of others around me, and I can pause the movie if I happen to have the need to potty part way through. And Pirates of the Caribbean: Dead Men Tell No Tales is one of those movies you don't want to get up part way through and miss something! It's action packed pretty much through the entire movie keeping you on the edge of your seat. Captain Jack Sparrow always has something witty to say and you don't want to miss it.
Honestly though if you haven't seen the movie yet, I do highly recommend it. My whole family loved it. You can check out a clip from the movie below:
And here's a little extra fun for those that love the movie like I do!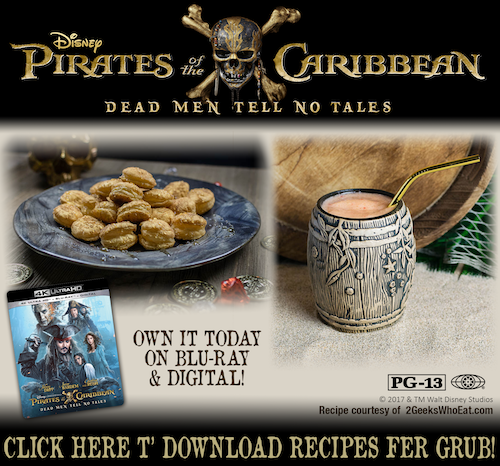 Disclosure: This is a sponsored post on behalf of the above mentioned brand. I received product(s) in exchange for my honest and unbiased thoughts. All thoughts and opinions stated are my own and are in no way influenced by my partnership with mentioned brands.